Paneer Makhani and Paneer Tikka Masala are hugely popular dishes in India and across the world.
The taste and richness that these dishes bring to the palate are simply unparalleled. 
But oftentimes, we get confused between these two dishes.
Since both are North-Indian-style preparations, it becomes difficult to choose one, especially when placing an order at a restaurant.
To make this job easier, I have shared a detailed comparison guide below.
So, let's get started.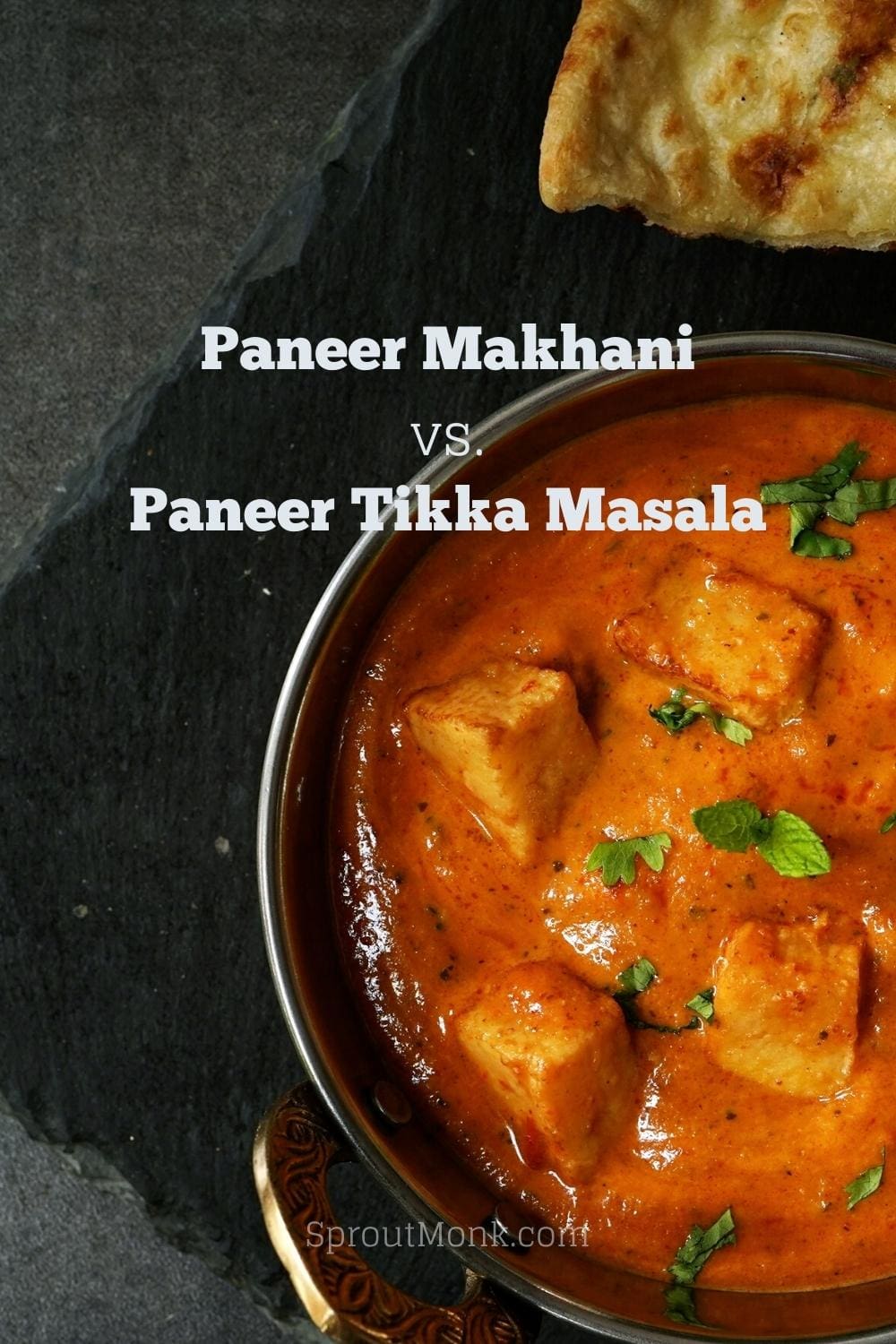 Paneer Makhani vs. Paneer Tikka Masala – The Differences
In this section, you will find some of the basic differences between these two iconic dishes.
| | Paneer Makhani | Paneer Tikka Masala |
| --- | --- | --- |
| Taste | Mild | Moderately Spicy |
| Color | Orange-Red | Bright Orange/Red |
| Texture | Smooth and Silky | Slightly Coarse and Thick |
| Butter | Required | Not Required |
| Paneer Cooking Style | Shallow Fried | Cooked In Tandoor or Oven |
| Paneer Marination | Not Required or Basic Marination | Required |
| Cooking Time | Less | More |
Let's look at these differences in more detail below.
1. Taste
Paneer Makhani generally has a rich and creamy taste, which comes from butter, fresh cream, etc.
Since it's a slightly mild dish, you won't notice a lot of heat on your palate.
Now, if you compare it with Paneer Tikka Masala, you will definitely notice a significant difference in its taste.
Tikka Masala gravy is known for its robust and earthy flavors, and that's primarily because of the tandoori style preparation of Paneer Tikkas.
You will also experience more heat in this gravy as compared to the makhani gravy.
The tikkas taste a lot better when they're served in moderately spicy gravy.
So, you will always come across spicy taste in this type of delicacy.
2. Color
Color is another interesting aspect of these two dishes, and it's a great factor to differentiate between them.
Generally, Paneer Makhani has a slightly orangish color shade as compared to Paneer Tikka Masala.
This is due to the fact that we use many dairy ingredients in the Makhani gravy.
As for the Tikka masala gravy, we mostly use cashew paste and onion-tomato to form the base of the sauce.
Therefore, the color that Kashmiri red chili brings to this preparation remains the same in the end.
3. Texture
Any makhani gravy should have a fine texture, and you should never find any crushed spices or broken cashew nut pieces in it.
The word makhani also roughly translates as smooth (texture).
So, the ingredients we use for this recipe should always be ground into a fine paste.
Apart from that, the gravy needs to be sieved in the latter stage of preparation so that it can attain an even more fine texture.
On the other hand, the Paneer Tikka Masala gravy doesn't have to be as fine as makhani gravy. 
You can simply ground the base ingredients and cook them to prepare the gravy.
4. Butter 
Generally, we use butter to prepare the makhani gravy.
It's the main ingredient to prepare this delicacy.
But if you look at the Tikka Masala recipe, you won't find the need to use any butter in its preparation.
You can prepare this recipe using ghee or any other vegetable oil.
Butter can also be used along with some oil, but it's not the must-have ingredient for this delicacy.
If you use butter in this recipe, you might get to smell a slightly buttery flavor that may or may not go well with the earthy flavors of this recipe.
So, it really depends on how you like to prepare this dish.
5. Marination 
When you're making Paneer Makhani, you don't necessarily have to marinate the paneer pieces.
You can either use them directly in the gravy or fry them before using them for preparation.
If you want, you can also marinate them with the basic marination, i.e., using lemon juice, salt, and turmeric powder.
But for Paneer Tikka gravy, you must marinate the pieces and any vegetables prior to putting them in the oven.
If you don't marinate them, you will clearly feel the difference in taste while tasting the dish.
Marination holds a lot of importance in making Paneer Tikka Masala curry, and you shouldn't skip it for any reason.
Note: You can use salt, lemon juice, turmeric powder, red chili powder, ginger-garlic paste, and oil to marinate the paneer cubes for this recipe.
Marinate the pieces for at least half an hour so that the pieces can absorb enough flavors.
6. Preparation Time
It's quite self-explanatory! 
Paneer Makhani doesn't require any additional steps during preparation, so it naturally takes less time.
But the Paneer Tikka Masala recipe needs more steps to prepare the tikkas and gravy separately.
Therefore, the preparation time goes up quite a bit for this recipe.
If you want to save time, you can make the tikkas much before the actual preparation.
You can even store them in the refrigerator and reheat them later for further preparation.
Paneer Makhani vs. Paneer Tikka Masala – The Similarities
There are a few similarities between these two dishes, which will help you understand more about these dishes.
So, let's quickly take a look at them as well.
| | Paneer Makhani | Paneer Tikka Masala |
| --- | --- | --- |
| Food Type | Curry | Curry |
| Origin | Indian Subcontinent | Indian Subcontinent |
| Base Ingredients | Onion-Tomato | Onion-Tomato |
| Cashew Paste | Required | Required |
| Paneer | Required | Required |
| Fresh Cream | Required | Required |
| Served With | Indian Flatbreads or Steamed Rice | Indian Flatbreads or Steamed Rice |
Let's discuss some of these similarities below.
1. Origin
Although there is a lot of debate over tikka masala's origin, it has its roots in the Indian subcontinent.
And you can easily understand it from the color, taste, and texture of this recipe.
Regarding Paneer Tikka Masala gravy, it's definitely originated from India.
So, that's a basic similarity factor between these two dishes.
2. Onion-Tomato Base Gravy
Onion and tomato are the two quintessential ingredients for both these gravy preparations.
You cannot make any of these dishes without the above ingredients. 
Of course, the preparation techniques may differ slightly, as some chefs prefer to sauté them before turning them into a paste.
The other versions, however, need you to prepare the onion and tomato paste separately before cooking them.
Both the methods are equally good, but you may experience a slight difference in the end.
3. Paneer
Paneer is the common ingredient in both these curries.
You can also make non-vegetarian variations with the makhani or tikka masala gravy.
For vegetarians, you can think of adding mushrooms, cauliflower, green peas, or any other veggies of your choice in these curries.
But make sure you use crunchy veggies in such curries because they add a really interesting dimension to the preparation.
Regarding paneer, it should always be fresh for both preparations.
Do not use frozen paneer for these recipes, as it will change the taste and texture of the dishes.
4. Cashew Paste
Cashew paste is a must-have ingredient for both these curries.
Without this paste, you won't be able to achieve the same creamy and rich taste for the preparations.
Well, these are some of the differences and similarities between these two dishes.
Now, let's jump over to the FAQs sections to find out more about this topic.
FAQs
2. What Does Makhani Taste Like?

Makhani tastes like most cashew-based curries but with a more silky and rich texture.

It is also not a very spicy preparation despite its red-orangish color shade.
3. Is Dal Makhani Spicy?

Dal Makhani is a moderately spicy delicacy.

If you're not accustomed to having Indian dishes, you will definitely find it spicy.

Also, if you prepare it in traditional style, i.e., cooking for a longer period on low heat, you won't experience much heat from this preparation.
4. What Is Paneer Tikka Called In English?

There is no alternate name to Paneer Tikka in English or any other language.

So, you can refer to it as it is.
5. What Is The Difference Between Paneer Butter Masala And Paneer Makhani?

Butter Masala is generally prepared with lots of butter, and it doesn't have a fine texture that you get to taste in makhani gravy.

And that's a major difference between these two dishes.

Apart from that, Paneer Butter Masala can be slightly spicier than Paneer Makhani.
Over To You
Paneer Makhani and Paneer Tikka Masala are some of those dishes you must try out at least once in your lifetime.
They are so delicious and flavorful that you will simply fall in love with these delicacies.
In the above guide, I have tried to compare these two dishes with some useful details.
Hopefully, it helps in understanding more about these dishes.
If you still have any queries, please let me know in the comments below.
I will try to answer them as soon as I can.
Do share this guide with your friends and family if you found it helpful.