Wondering why your Paneer turns rubbery?
Well, it's one of the most common issues while cooking Paneer at home.
Even though it looks like an easy to make ingredient, you can surely go wrong with it. 
And it happens in professional kitchens as well.
So, there is no need to worry about it at all.
You can fix this issue with some of the tips and suggestions shared below.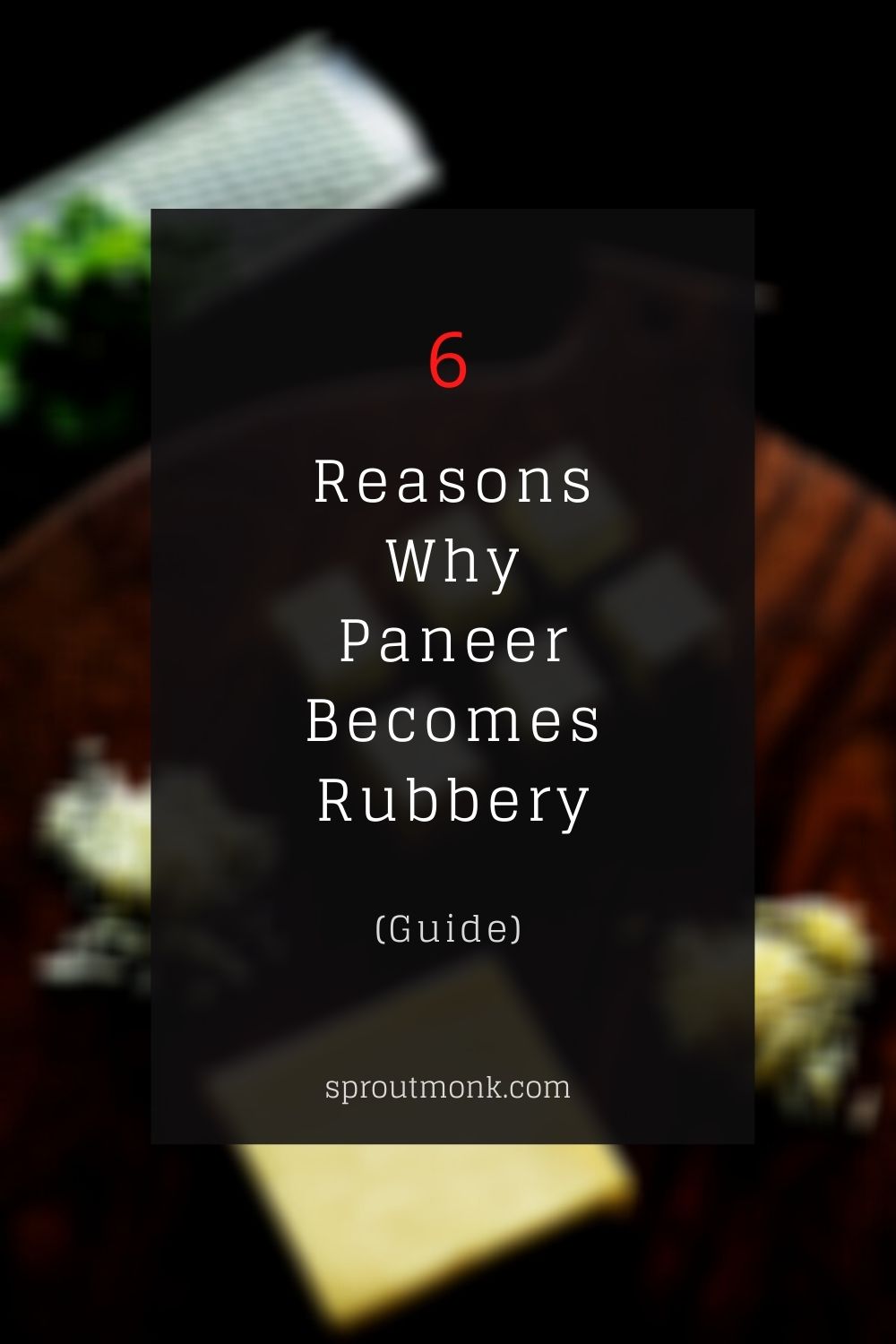 Here's Why Your Paneer Turns Rubbery
Let's look at the reasons why Paneer becomes rubbery and chewy after cooking.
1. Your Store-Bought Paneer Is Not Fresh
Paneer should always be fresh and soft to touch when you want to use it in different preparations.
If it's not fresh, it changes its texture within a few days and turns hard like rubber.
And when you cook the same Paneer in curries or biryanis, it becomes even more hard and chewy in the process.
Well, it generally happens when we get Paneer chunks from retail stores.
These stores often source them from large milk production companies.
And as you know, the whole transportation system takes at least a day or two to reach these packaged items to your nearby stores.
And that's not just about it.
If the store's cooling system is not operating at optimum temperature, it affects the quality of such products.
Similarly, if you are buying it just before the expiry date, it also affects its overall texture.
So, there are quite a few factors involved when you get it from retail stores.
2. You Cook Paneer For A Long Time
Have you brought fresh Paneer from the store?
Is it still turning rubbery?
Then, the possibility is you might be cooking it for a very long time.
There is also a misconception in some of our cooking methods.
Generally, we assume if we cook food for long, it turns soft and fluffy.
Well, it might be true for vegetables and meats, but it's not the case with Paneer.
In fact, if you cook it for too long, it will release most of the remaining whey (water) content in the curry or gravy.
And eventually, it will turn hard and rubbery.
3. You Cook It On High Flame For Too Long
You should never cook Paneer on high flame for too long.
If you do, it will change its texture immediately.
It will turn firm, and you might wonder what did you do wrong in this process.
Well, as you know, Paneer doesn't take much time to cook perfectly.
As for high heat cooking, you need to be a little more careful while using Paneer.
You can check out the following tips section, where I have shared a few useful tips to save your Paneer from turning rubbery while frying.
4. You Allow It To Remain In The Curry For A Long Time
Like the above two points, if you keep it in the curry for too long, it will turn rubbery.
Yes, it may absorb flavors from delicious curry, but the result won't be as great as you'd expect.
The residual heat present in the curry will continue to the cooking process in the pot or Kadai.
And that's one of the main reasons it becomes firm despite using fresh pieces for your preparation.
5. You Reheat It Multiple Times
Do you reheat your food more often?
Well, it's a good practice in general, but it might also affect the texture of your Paneer curry.
If you reheat the curry a couple of times, you won't see much of a difference in the pieces.
And that, too, depends on the freshness of the Paneer cubes.
But if you do it multiple times in a day, you should expect some sort of hardness or rubbery texture to them.
So, whenever you make a Paneer gravy or Rice delicacy, make sure you consume it right away.
Unlike other preparations, it tends to deteriorate in its texture.
And if you reheat it multiple times, the softness won't be the same as you may have experienced for the first time.
6. You Use It At The Beginning Of Curry Preparation
I know many recipes suggest you use Paneer pieces while preparing the masala base.
While it helps in bringing more flavor to the pieces, it does have an impact on its texture.
Also, if you add the pieces during the initial cooking process, they might even break into small parts due to their crumbly nature.
Ultimately, you will have a curry with too many rubbery pieces of Paneer in it.
Overall, as you might have observed above, most of these reasons revolve around the two things here.
The first is the quality or freshness of Paneer and the second one is the heat.
If you go wrong with one of these two things, you will have to deal with the rubbery Paneer issue.
But hey, don't get discouraged just yet.
As I mentioned earlier, I have shared a few useful tips in the following section.
So, do check them out below.
5 Useful Tips To Prevent Rubbery Paneer
Now that you know the reasons for rubbery paneer pieces let's look at the following prevention tips and fixes to resolve this issue.
Note – Once the Paneer turns rubbery, there isn't much you can do about it.
It's an irreversible natural process, which takes place due to the exposure to bacteria and/or high heat.
Alright, here are the tips for you – 
1. Use Fresh Paneer For Cooking
Yes, if you want to make soft and fluffy Paneer dishes, you need to have fresh Paneer in the first place.
Without that, it'd be difficult to get the same texture to your dishes.
It is also one of the common reasons why only some restaurants serve soft Paneer every day in their menus.
It all depends on the freshness of the pieces.
If you procure fresh Paneer chunks, the result will be nothing short of a treat in itself.
But how to find such Paneer in the store?
Unfortunately, you can't!
Yes, that's the saddest part about the packaged Paneers.
If you are looking for the packaged ones, you will never get the right taste and texture of fresh Paneer in your preparations.
I have tried almost every brand that sells such Paneer in different grocery stores.
And as you know, the results are never as good as the homemade Paneer or fresh dairy Paneer.
But if you are still looking for something similar, I'd suggest you find a dairy near your place.
Indian dairies always provide one of the best types of Paneers in local markets.
Therefore, if you want to avoid the rubbery effect, I think you should consider buying it directly from a nearby dairy.
2. Marinate The Pieces Whenever Possible
Marination is one such technique that has lots of benefits in Indian cooking.
It not only helps in infusing flavor into the ingredients but also transforms the texture of hard-textured food items.
So, if you have some time before cooking your Paneer, you should definitely marinate them for at least 15-20 minutes.
You can also keep them in the refrigerator for an hour or two for even better results.
Here's how you can marinate your Paneer pieces – 
Well, you can stick to the basic marination of fresh Lemon Juice, Salt, Turmeric Powder, Red Chilli Powder, and Ginger-Garlic paste.
These 4-5 ingredients are more than enough for the marination process.
Note – When you marinate Paneer or any other food item, you should include an acidic ingredient in the marinade.
The acidic or citrus agents react with the food particles and help in the disintegration process.
Eventually, it helps the marinated pieces turn softer and juicier.
So, do try out this basic marination for your Paneer pieces.
I'm sure the results will be quite impressive!
Quick Tip: For more richness, you can also use Yogurt and Cashew paste in your marinade.
3. Cook Them On Medium-High Flame For Up To 10 Minutes
As discussed earlier in the guide, it's one of the most common reasons why Paneer turns rubbery.
If you cook it on a continuous high flame, it will lose its softness and turn hard and rubbery.
For those who don't know, it takes only 5-10 minutes to cook Paneer thoroughly.
If you cook it any longer than this period, it will immediately start losing its texture.
As for high-heat cooking or frying, you should reduce the cooking time even further. 
The time mentioned above is only useful if you are making curries and stir-frys.
And if the Paneer is very soft and delicate, you may not even have to cook for so long.
4. Avoid Storing Them In The Refrigerator
Generally, refrigerators are known for extending the storage life of different food items.
But if you know the science behind them, you will understand they also dehydrate the food during this cooling process.
And that's not entirely helpful in the case of Paneer.
Its softness depends on the whey content present inside the body.
When you store it in the fridge or freezer, its water content slowly gets evaporated in the unit's compartment.
And as you might have guessed it already, the remnant Paneer turns hard.
So, if possible, you should avoid storing it in the refrigerator.
Try to use it on the same day for the best soft texture.
5. Use Rubbery And Hard Pieces For Tikkas Or Paneer Bhurji
That's what I do when I get such Paneer from the stores!
I don't use them for gravies or pulaos.
Because if you do, the rubbery texture becomes more evident in such preparations.
Also, it ruins the entire dish.
To avoid that, I prefer using them for Tikkas and Paneer Bhurji.
For Tikkas, you can marinate the chunks with different flavorful ingredients.
These flavors greatly balance the hard texture of Paneer.
However, if the chunks are too hard, I'd not use them for Tikkas either.
Instead, the second option is to prepare a traditional Bhurji out of it.
Due to the crumbly texture of Bhurji, the softness factor doesn't come into play in your preparation.
It nearly goes unnoticed if you prepare the base Onion-Tomato masala well.
Similarly, you can also use the grated Paneer on top of homemade Sandwiches and Pizzas.
That being said, these are just workarounds for hard Paneer pieces.
Ideally, you should prepare these dishes with soft and fresh Paneer only.
Well, if you are left with no other options, do try out some of the suggestions shared in this guide.
I'm sure you will have a better experience in making Paneer next time.
In the next section, I have shared answers to some of the commonly asked questions by readers.
Do take a look at them if you have any related queries in your mind.
FAQs
1. Should You Fry Paneer Before Adding To Curry?

Yes, you can fry Paneer before adding it to your curry preparations.

But it greatly depends on the type of curry you want to make with it.

If you want to add more richness and crispy texture to the gravy, you can definitely consider frying them in oil.

You can also use a non-stick tawa or pan if you don't want to use the deep-fry method.

However, in general, there is no strict rule to fry Paneer pieces for Indian curries.

It's more of value addition that has come from the professional kitchens and restaurants.

And honestly, it won't make a big difference to the taste of your curry.
2. How Long Do You Fry Paneer?

You can fry Paneer for a couple of minutes on each side.

Yes, it doesn't take long when you cook it on high flame.

Quick Tip: If you are frying them with veggies, it might take up to 5-10 minutes to thoroughly cook the pieces.
3. How Do You Soften Paneer?

There are a couple of things you can do to soften the Paneer pieces.

First thing, you can keep them in water before using them in the curry preparations.

This step will allow them to soak up enough water, which eventually helps in turning them soft.

You can also fry them first in hot oil and place them in a bowl of water for a few minutes. 

Note: Paneer doesn't work like a sponge. 

It doesn't have pores texture that can store a lot of water into it.

So, if you are trying to soften hard Paneer, it might not turn soft as you'd expect.

The second tip is to use the pieces in the end.

Whenever you make a Paneer-based curry, you should think of using them at the end of sauce preparation.

Since it only takes about 10 minutes to cook, there is no need to cook it along with other ingredients.

This way, the Paneer remains soft and juicy for a long time.

Well, these are two ways you can soften the Paneer while cooking.

There is one more way to soften them, but you need to grate it into tiny pieces.

You can use these pieces to prepare soft and crumbly Paneer Bhurji.
4. How Do You Know If Paneer Is Bad?

It's quite easy to know if Paneer has turned bad.

The first thing is to check any foul smell coming out of the packet.

If it smells terrible, you should throw it away immediately.

There is no point in using such food for consumption.

Similarly, if the Paneer seems too hard, it's a good indication that it has gone bad.

It should always feel soft and fluffy when you buy it from the store.

Alternatively, you can also check for any discoloration or fungal growth on its surface.

Ideally, it should look white or pale white. 

But if you see any other color on its surface, it's time to throw it away. 

Note: Sometimes, it does turn yellow, which could also be a sign of bacterial growth on it.

And finally, if everything looks alright, you can taste a tiny piece of it to check its freshness.

I think these few steps are good enough to know whether your Paneer has turned bad.
5. How To Keep Paneer Soft In Fridge?
Since Paneer is a perishable food item, it can only remain fresh for a few days.

But if you want to keep it fresh longer, you should store it in the freezer section of your fridge.

Also, it's essential to keep it covered so that there is no contact with outside air.

If you keep it in the open, the Paneer will turn hard despite keeping it in the freezer.

On the other hand, if you want to use it in a couple of days, you may keep it in the fridge section.

Still, you need to keep it in an airtight container for better storage life.
Over To You
Got the answer to your question?
I am sure you did!
Now, I hope you can use some of the suggested workarounds to keep it fresh for a long time.
In case you have any more doubts about this topic, please let me know in the comments below.
And I will get back to you as soon as I can.
Meanwhile, you can also share this useful guide with your friends and family.
If you are interested in receiving more such updates, please subscribe to my weekly newsletter below.